WheelCover.com and The Sign Maker
A Brief History
WheelCover.com became part of The Sign Maker towards the end of 2022, but the business's history dates back as far as the early 1980s. Headed up by Fred Cutler (assisted by his son, Robin), before being taken on by Ian Selby in 2013, WheelCover.com has seen many changes over the years!
Fred Cutler was working as a sales manager for a Jeep dealership, before uncovering that there was a lack of wheel cover manufacturers here in the UK. A friend was in need of a wheel cover for their vehicle, and so the business began. After years of hard graft from the Cutler's garage and a back garden shed, the business grew. Before long, Fred bought a space of his own in order to set up a manufacturing workshop for a small number of machinists, artists and manufacturers. The wheel cover business proved successful, offering something new and innovative that saw customers approaching them for 'one-off designs'.
We are incredibly excited to take on what has already been a successful venture for Fred and Ian. There is something special about having the opportunity to put The Sign Maker's unique approach into a business that already has such history. As described by Fred himself, the manufacturing of wheel covers is 'a fine art'; it is a privilege to have learned the trade from Ian Selby, and to now have the chance to see how we can use WheelCover.com to best serve customers nationally.
The Sign Maker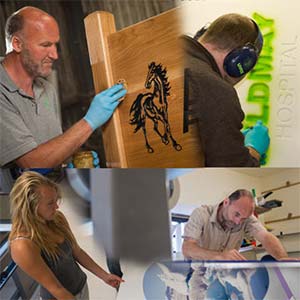 The Sign Maker first began trading in the June of 2000. After over 20 years of trading, The Sign Maker now specialises in bespoke signs, memorials and wheelcovers with a reputation for custom high-quality signage to suit any budget. From handcrafted plaques and laser engraved memorials to grand entrance signs and elaborate hanging nameplates, the team will turn their hand at anything. Materials they use include Timber, Stone, Vinyl and Metal giving customers the opportunity to design a sign that is right for them.
Utilising a blend of traditional and modern methods of craftsmanship, it is hard to compete with the finesse of a house sign, the grandeur of business signage or the understated beauty of one of The Sign Maker's memorials. If you're in the market for a new sign, do explore what options are availible at The Sign Maker; the one stop shop for all your signage needs.
UK Memorials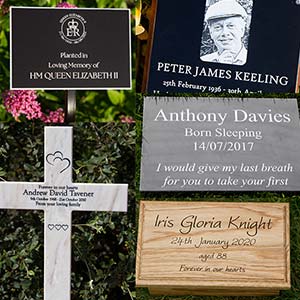 UK Memorials is the sister company of The Sign Maker. With The Sign Maker's product range becoming so extensive, UK Memorials is the informative home of memorials. From increasingly popular photo memorials to traditional memorials and eco-friendly alternatives, the business is able to craft memorial tributes that are in line with what each customer is looking for (including pet memorials).
As a family business, UK Memorials can appreciate some of the challenges that may be faced when choosing a memorial. As a result of this, the UK Memorials team strive to design and craft with precision in collaboration with you. While we hope you're not in need of a memorial at this time, should you find yourself in need - UK Memorials are a safe pair of hands.
Our Online Shop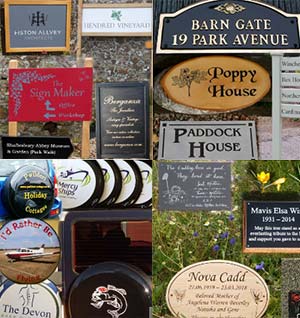 Home for all of our products (including signs, memorials, wheel covers and gifts), The Sign Maker Online Shop is perfect for browsing our extensive selection. With products arranged by use and by material - it has never been easier to place an order with The Sign Maker. In addition to a straightforward purchasing experience, the online shop also hosts a 'Design Your Sign' feature to help you dream up a sign or memorial!
You may choose to utilise The Sign Maker Online Shop if you have a clear idea of what you're looking for. With opportunities to purchase standard safety signs, sign fixtures, backing boards and so much more too, as well as a bespoke range of signs and memorials, The Sign Maker Online Shop could be just the right resource for you.
Working With Green Energy; Wind, Solar and Biomass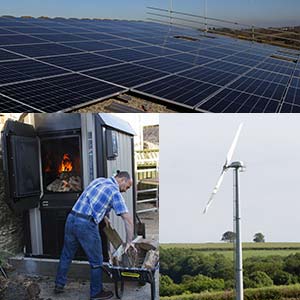 Being situated in the heart of North Devon, we are keen to do our bit for the environment. Onsite, we are proud to utilise three renewable sources of energy. Soon after we moved onto the site in 2012, our Wind Turbine was installed, closely followed by the installation of a biomass boiler. The energy produced is used to heat and run our workshops and offices - creating a greener works space, but we haven't stopped there! Most recently, the workshop roof received a makeover and it is now covered in solar panels! This has been an investment that we have wanted to make for a while as a business, so it is exciting to watch it come to fruition.
When you purchase from us, you can rest assured knowing that we remain aware of our surroundings, and we do as much as possible to minimise our negative environmental impact.
Our Commitment To Nature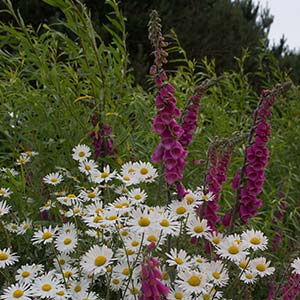 In addition to our use of green energy, we like to support the local wildlife that chooses to make Yelland Farm home! From flowers and trees attracting birds and bees to wildlife ponds and native shrubs creating biodiverse habitats - we have found that nature continues to thrive here. We believe that we have a responsibility to use the space that we have to make a positive difference which goes further than just running a business!
In 2022, our parent company, The Sign Maker, formed a partnership with UNESCO's North Devon Biosphere. The partnership has encouraged us to develop projects and strategies onsite and further afield. Last year saw us craft bespoke bug hotels, plant up a new wildflower patch and share more about our environmental commitments online. We look forward to furthering our environmental commitments and hope you'll join us for the ride across social media and via The Sign Maker Blog.