Soft Wheel Covers - Vinyl Fabric Tyre Covers
Soft wheel covers / tyre covers can be made to almost any size.
Our soft vinyl fabric tyre covers are made with a soft vinyl fabric disk, before being finished with a black piping edge to which the elasticated skirt is attached. We use a top quality, heavy weight and durable fabric unlike alternative cheap imposts you will see for sale elsewhere online. With WheelCover.com, you're in safe hands.
As we actually manufacture our wheel covers / tyre covers on site, we can craft them to be almost any size for the perfect fit. We design them to fit snuggly to a vehicle's spare wheel, the considered craftsmanship making a significant difference to the quality fit of the wheel cover.
Blank Soft Wheel Covers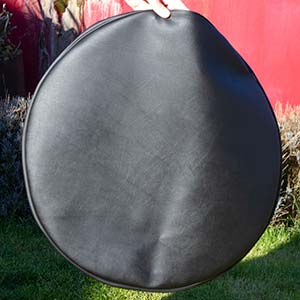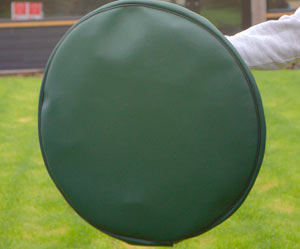 For our blank wheel covers, the soft vinyl fabric used to craft the front panel and the skirt, is black as standard - which fits snugly around the tyre. However other colours are available (see below) depending on the finish that you are looking to achieve!
The piping around the disk edge will always be black as we feel this design feature is professional and well suited to a wheel cover regardless of the fabric colour, and the quality craftsmanship of these particular wheel covers remains unrivalled.
Prices
Trailer Size - £35 incl.VAT
Standard Sizes - £40 incl.VAT
Shipping - 12.80 incl.VAT

Trade prices are available for larger quantities.
Vinyl Fabric Colours
We have seven other colours that we can offer for our fabric wheelcover, apart from the standard black that we use. These colours include: Grey, Barley, Navy, Green, Brown, Wine and Royal Blue. The cost for an alternative soft vinyl colour is £9, and the piping around the disk edge will always be black as standard across all wheelcovers.

Soft Wheel Covers with Printed Design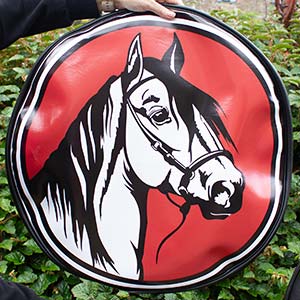 As well as single colour lettering with any colour background, we can create custom tyre covers will full colour printed designs. Cost depends on tyre size and whether or not you can provide ready to print artwork. Our sample tyre covers on this page are available at the ready to print prices.
Prices
Trailer Size - Prices including VAT - Ready to Print/Text Only £99, Designer to create artwork £125
Standard Sizes - Prices including VAT - Ready to Print / Text Only £110, Designer to create artwork £140
Shipping - 12.80 incl.VAT
Screen Printing on Soft Tyre Cover
Screen printing directly onto the vinyl fabric is the cheapest option for larger quantities of tyre covers and wheel covers - which is why this option is only open to trade orders. The minimum quantity is 25 of any one design - can be in several vinyl fabric colours though. You can also have the print made up in various tyre sizes but the print size must remain the same throughout.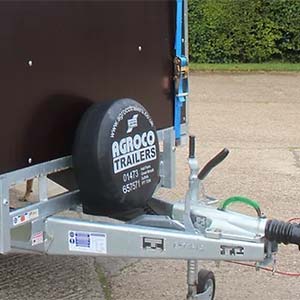 As we manufacture in our own workshops we can make these to any size. Fabric colours include black, Grey, Barley, Navy, Green, Brown,Wine and Royal Blue. For larger orders we can buy in other colours. Tell us what you need. The print can be in one or two colours. The prices below are per cover and exclude VAT


| Screen Printing Soft Covers | 25 | 50 | 100 | 150 | 200 |
| --- | --- | --- | --- | --- | --- |
| Trailer 1 colour | £24.75 | £21.76 | £19.83 | £19.22 | £18.99 |
| Trailer 2 colour | £29.17 | £24.39 | £21.51 | £20.51 | £20.13 |
| Standard 1 colour | £27.73 | £24.74 | £22.81 | £22.20 | £21.97 |
| Standard 2 colour | £32.15 | £27.37 | £24.49 | £23.49 | £23.11 |
| Carriage per order | £15.00 | £25.00 | £30.00 | £40.00 | £50.00 |